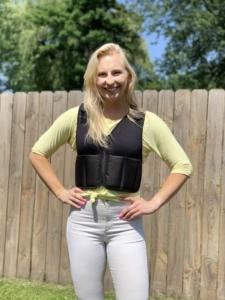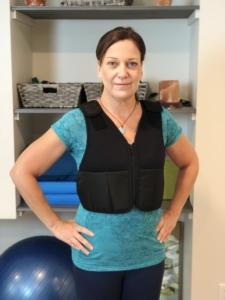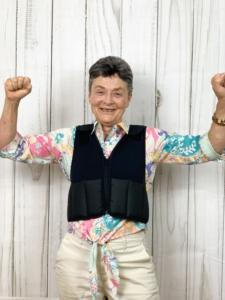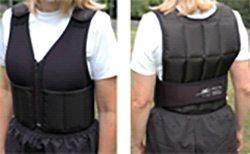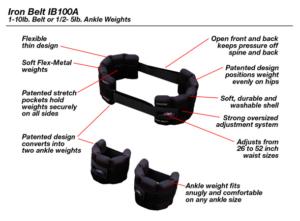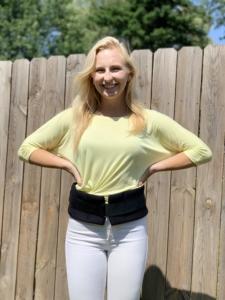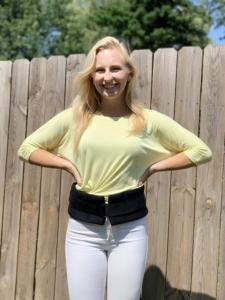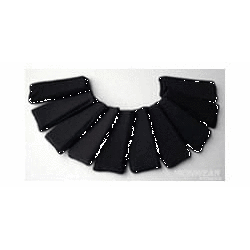 2 Options to Choose from -- Exercise Vest with Zipper Front or Iron Belt™ Exercise Belt -- Or Use Them Together for Extra Impact! Both Made in U.S.A.!

 If you have any concerns about using the weighted vest or belt, we recommend that you check with your physical therapist or your doctor before purchasing.
The Vest $225 (includes free domestic shipping )
The new Better Bones Exercise Vest with Zipper Front is our latest and sleekest women's vest design. It is easy to set up and use. It is form-fitting and adjustable from 1 to 19 pounds. A Better Bones Exclusive!
  Features of the new Better Bones Exercise Vest:
Easy on/easy off. No need to put over your head.
Fully adjustable to accommodate a wide range of sizes.
Two patented Double-lock padded shoulder straps allow adjustment in the bra area.
Builds bone density, increases muscular strength, and improves balance and posture.
The vest is easy to clean. It can be hand washed with the weights inside or machine washed with the weights removed.
The most stylish exercise weight vest in the world. Can be worn under or over clothing.
The Better Bones Exercise Vest includes IronWear®'s patented Flex-metal® weights -- the safest and most comfortable, and best fitting weights possible. There are 18 weight pockets into which one or two 1/2-pound soft Flex-metal® weights can be inserted. The vest comes with one weight per pocket plus the vest shell for a total of 10 pounds. You can add 18 more 1/2-pound weights for a total of 19 pounds if you buy the Extra Weights. The extra weights only come in packages of 10 (5 pounds).
To learn more about how to use this vest, view our Instructions for Use and Zipper-Front Vest Set Up Guide.
Read more about the Benefits of Using a Weighted Vest.
The Belt $150
Better Bones Weighted Exercise Belt - 10-lb Belt or 5-lb Ankle, Thigh or Wrist Weights
Better Bones Weighted Exercise Belt gives your four great Flex-metal™ products in one system. You get a belt which separates into two ankle, wrist or thigh weights. No other system offers you the flexibility of the Better Bones Belt.
It is critical for women with osteoporosis to use the flex metal weights like the ones in our weighted products. They are soft so if you should trip or fall they will not apply pressure on the bone like a traditional hard metal bar weight found in other vests and belts. This is one of the reasons Dr. Brown strongly feels that  these are the best weighted exercise products for women with osteoporosis and we have successfully been selling them for more than 10 years!
Better Bones Weighted Exercise Belt  is a 10-pound belt which positions the weight properly over the hips for maximum comfort. The front and back are open to keep pressure off the abdomen and spine. The oversized tension straps make it easy to adjust and put on and take off.
Better Bones Weighted Exercise Belt  separates into two sections each section can be used as a ankle, wrist, or thigh weight. Each weight has the largest securing straps in the industry. Each of the two sections has five padded patented stretch pockets into which one or two 1/2 pound Flex-metal™ inserts may be inserted.
Better Bones Weighted Exercise Belt  comes with 20 - 1/2 pound Flex-metal™ inserts and is adjustable up to 10 pounds, 5 pounds per side or the sections can be doubled up on one leg to go from 1 to 10 lb per leg. With 2 IB100A belts you can expand the system to 20 lb per leg.
The Extra Weights* $42.95
You can add more weights to your IronWear® Women's Weight Vest.
These patented Flex-metal™ weights are thin and flexible and contour to the shape of the wearer. They can be purchased in 5-pound increments. Each 5-pound order contains 10 weights.
*These extra weights can only be added to the weighted vest.
All Prices Include Domestic Shipping.