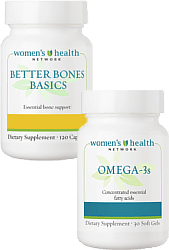 For women, strong, flexible bones are critical to having good health. Along the way, your bone health status can change, affecting your health, and potentially your future. You can do a lot for your bones by working with your body to support your bones' natural breakdown/buildup cycle so you stay strong, vital and active. Our Bone Health Support Combo is based on the latest science for creating and maintaining good, lasting bone health. Better Bones Basics, developed by natural bone health expert, Dr. Susan Brown, PhD, is the supplemental cal-mag every woman needs with the extra targeted vitamins and minerals healthy bones require. Essential fatty acids (EFAs) in the form of Omega-3s have powerful and beneficial effects on bone metabolism and overall bone health. Together, these two supplements can magnify the bone support you provide.
What you get with the Combo:
Better Bone Basics — our exclusive osteo support formula provides key bone health nutrients in the right amounts for everyday use. With ideal amounts of vitamin D, calcium and magnesium, Better Bones Basics is formulated to safely and effectively support women's bone health. This efficient supplement also includes essential bone-building minerals at therapeutic levels, along with nutrients to optimize absorption and bone-building support.
Better Bones Basics includes:
Calcium

 

— this essential nutrient is crucial for bone development and strength. We provide it as a carbonate/citrate complex in proper ratio to magnesium.
Magnesium

 

— this important mineral helps your body absorb calcium and is used by many systems throughout your body for many processes. It's instrumental in assuring bone strength and firmness. Also important to keep your teeth hard and strong.
Vitamin D3

 

— as research reveals more and more of its benefits, vitamin D3 as cholecalciferol continues to be one of the most important nutrients you can take. For best results, D3 levels should remain as consistent as possible, so daily use is advised.
Vitamin K1 and K2

 

— K1 plays a key role in blood clotting, and binds calcium to the skeleton while keeping calcium out of the arteries. K2 works to build bone strength and supports overall wellness.
Trace minerals

 

— as manganese, boron, and zinc, these minerals are utilized in your body's

 

natural bone repair processes

 

and are absolutely essential for good bone health and mineral absorption.
Our Omega-3s — these are molecularly distilled to concentrate the specific essential fatty acids in the formula. O3s can help reduce triglycerides and promote healthy bones (especially for women in menopause), eyes, skin, heart and joints. Omega-3s also promote emotional wellbeing and help decrease mood swings.
Our Omega-3s include:
Eicosapentaenoic acid (EPA)

 

— as a key essential fatty acid, EPA supports heart and circulatory health.
Docosahexaenoic acid (DHA)

 

— another essential fatty acid, DHA supports brain development and is critically important for optimal brain health and function.
Proper ratio of EPA to DHA

 

to support heart, brain and circulatory health, and other body systems.
How to use:
For daily bone support, we recommend taking both Better Bones Basics and Omega-3s together regularly every day as directed. For best results and optimal nutrient absorption, you can take one dose of each supplement in the morning, and another at lunch or dinner.
This Bone Health Support Combo is intended to last a full 30 days.