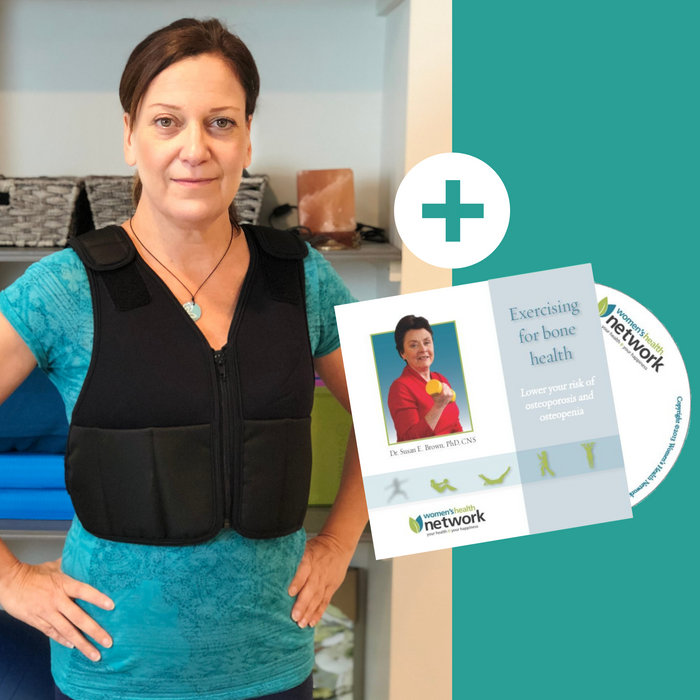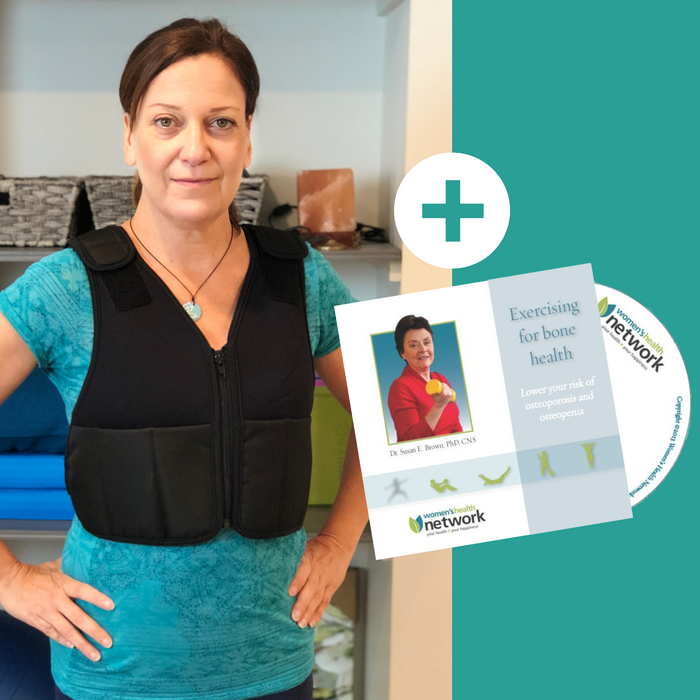 *Vest are handmade in the USA and take about 3-4 weeks to be delivered.
VEST AND EXERCISING DVD

The New Better Bones Exercise Vest with Zipper Front is our latest and sleekest women's vest design. It is easy to set up and use. It is form-fitting and adjustable from 1 to 19 pounds. This is a Better Bones exclusive!
Features of the new Better Bones Exercise Vest:
Easy on–off — no need to put over your head
Fully adjustable to accommodate a wide range of sizes
Two patented Double-lock™ padded shoulder straps allow adjustment in the bra area
Builds bone density, increases muscular strength, and improves balance and posture
Easy to clean
The most stylish exercise weight vest in the world—can be worn under or over clothing
Made in U.S.A.
The Better Bones Exercise Vest includes our patented Flex-metal® weights—the safest, most comfortable, and best fitting weights possible. There are 18 weight pockets into which one or two ½-pound soft Flex-metal® weights can be inserted. The vest comes with one weight per pocket plus the vest shell for a total of 10 pounds. You can add 18 more ½-pound Flex-metal® weights for a total of 19 pounds.
It is critical for women with osteoporosis to use the flex metal weights like the ones in our weighted products. They are soft so if you should trip or fall they will not apply pressure on the bone like a traditional hard metal bar weight like other vests and belts use. This is one of the reasons Dr. Brown strongly feels that these are the best weighted exercise products for women with osteoporosis and she has successfully been using them for over 10 years!
To learn more about how to use this vest, view our Instructions for Use and Zipper-Front Vest Set Up Guide.
Dr. Brown has written numerous blog articles on how a weighted vest builds bone.  To view them with references, visit our Weight Vest Archives.
See Also Our Weighted Belt– Can be used instead of vest or in addition to vest!
Exercising for Bone Health DVD
With Susan E. Brown, PhD, leading authority on the natural approach to bone health, this breakthrough DVD turns exercising for bone health into a fun activity that makes you feel good every time you do it.
Dr. Brown has spent more than 25 years researching the elements of natural bone health. Her knowledge and experience have guided her to choose five popular modalities that can ensure your bones are getting all the benefits they deserve every time you exercise.
Each section is easy to follow, and you don't need special equipment. You'll get a chance to try:
Pilates
Yoga
Isometric training
Weight-bearing exercises
Strength training
In just 35 minutes, you can complete this gentle and effective exercise routine, all in the comfort and privacy of your own home. Many women love having the option of checking out new and different types of exercise at home first. This gives them a chance to see how the exercise routine works for them and the way they live.