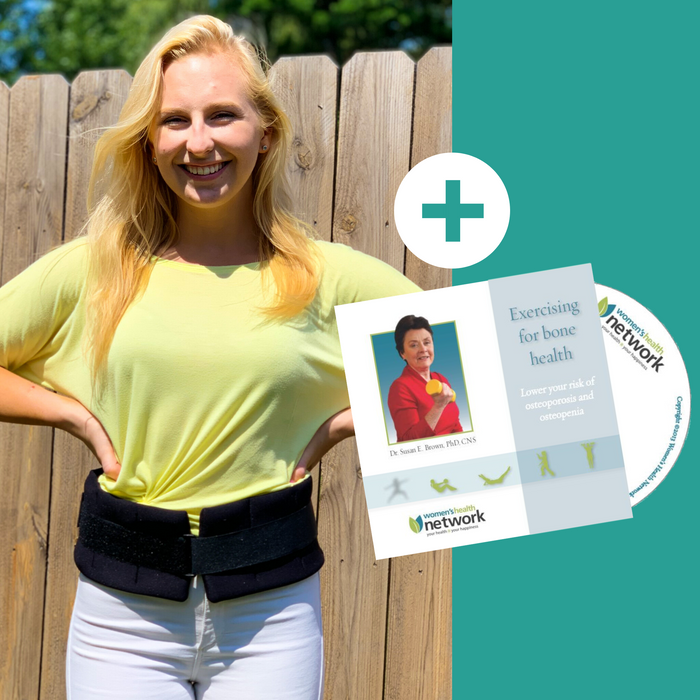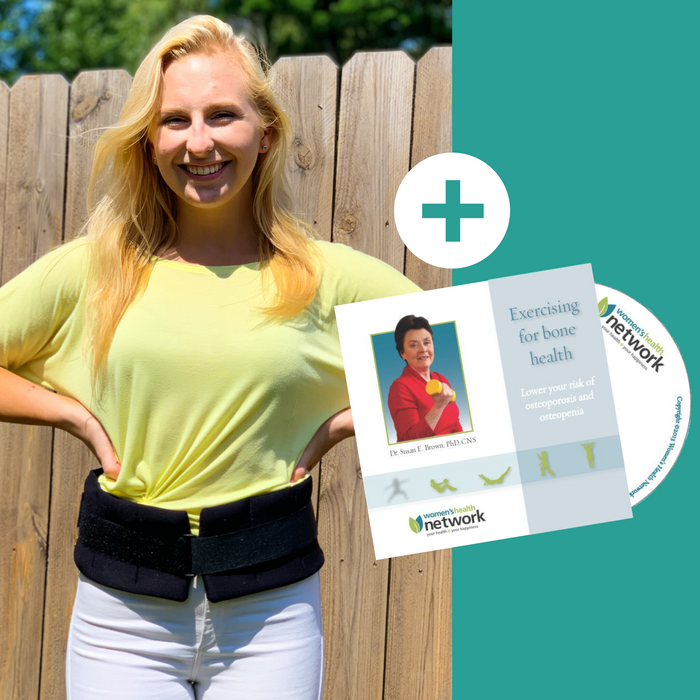 This kit includes our signature Better Bones Exercise Belt + Exercising for Bone Health DVD!

Better Bones Weighted Exercise Belt - 10-lb Belt or 5-lb Ankle, Thigh or Wrist Weights
Better Bones Weighted Exercise Belt gives your four great Flex-metal™ products in one system. You get a belt which separates into two ankle, wrist or thigh weights. No other system offers you the flexibility of the Better Bones Belt. Made in U.S.A.
It is critical for women with osteoporosis to use the flex metal weights like the ones in our weighted products. They are soft so if you should trip or fall they will not apply pressure on the bone like a traditional hard metal bar weight found in other vests and belts. This is one of the reasons Dr. Brown strongly feels that  these are the best weighted exercise products for women with osteoporosis and we have successfully been selling them for more than 10 years!
Better Bones Weighted Exercise Belt  is a 10-pound belt which positions the weight properly over the hips for maximum comfort. The front and back are open to keep pressure off the abdomen and spine. The oversized tension straps make it easy to adjust and put on and take off.
Better Bones Weighted Exercise Belt separates into two sections each section can be used as a ankle, wrist, or thigh weight. Each weight has the largest securing straps in the industry. Each of the two sections has five padded patented stretch pockets into which one or two 1/2 pound Flex-metal™ inserts may be inserted.
Better Bones Weighted Exercise Belt comes with 20 - 1/2 pound Flex-metal™ inserts and is adjustable up to 10 pounds, 5 pounds per side.
Exercising for Bone Health DVD
With Susan E. Brown, PhD, leading authority on the natural approach to bone health, this breakthrough DVD turns exercising for bone health into a fun activity that makes you feel good every time you do it.
Each section is easy to follow, and you don't need special equipment. You'll get a chance to try:
Pilates
Yoga
Isometric training
Weight-bearing exercises
Strength training
In just 35 minutes, you can complete this gentle and effective exercise routine, all in the comfort and privacy of your own home. Many women love having the option of checking out new and different types of exercise at home first. This gives them a chance to see how the exercise routine works for them and the way they live.