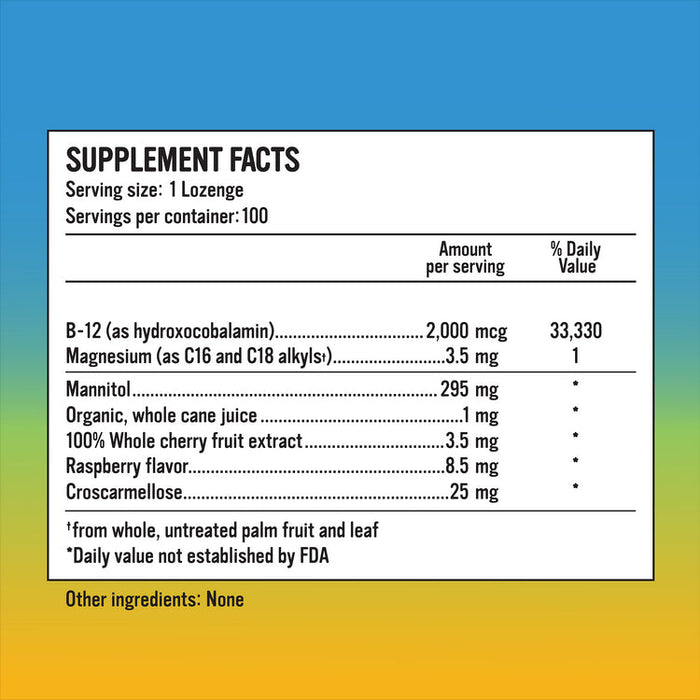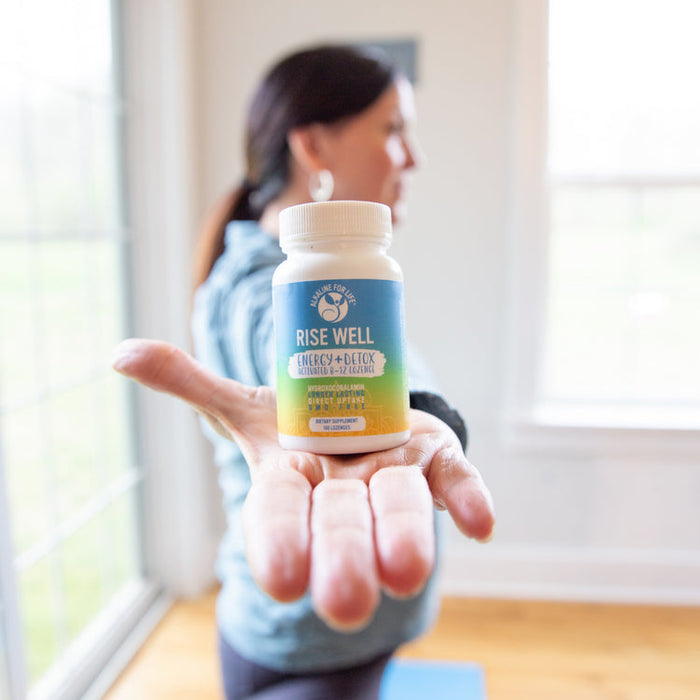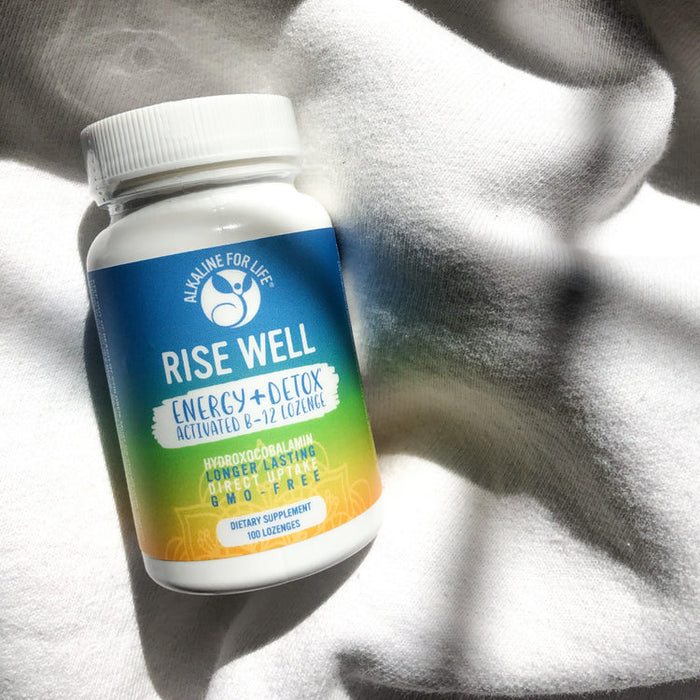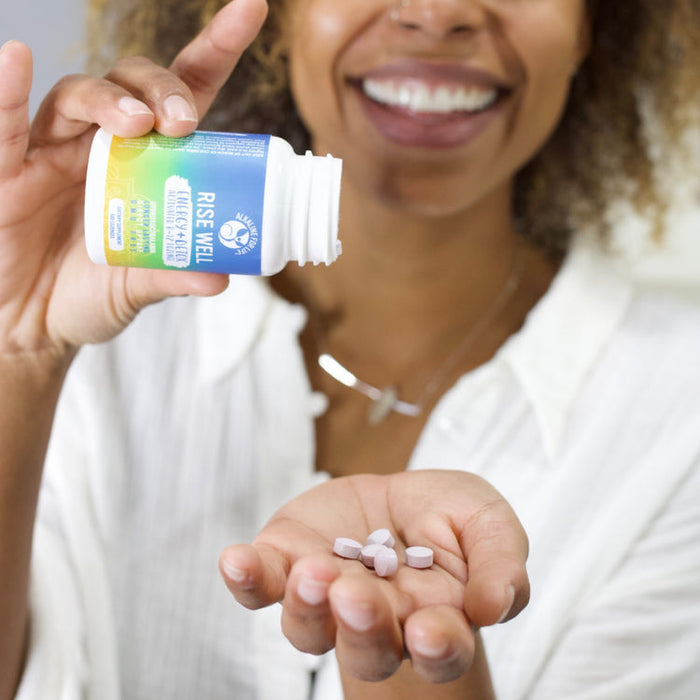 Highlights
B-12 in its superior, activated hydroxocobalamin form
Lozenge form for maximum uptake & optimal delivery to the brain
Longer lasting B-12 action in the body compared to other forms
100% natural and Vegan
Non-GMO
Gluten-free, binder-free
Purity & Potency Guaranteed. We are among a select few manufacturers that post our 3rd party lab testing. View Rise Well COA.
Overview
Rise Well is proven to be the most absorbable and easily converted form of vitamin B-12. 
Vitamin B-12 in our food supply today is estimated to be 78% lower than in the 1960s. With diet alone, it is thus hard to provide the necessary levels of this important nutrient. Rise Well delivers vitamin B-12 in its superior, activated hydroxocobalamin form. Hydroxocobalamin requires no intrinsic factor and is taken up directly by mucous membranes regardless of digestive competence. This form of B-12 lasts longer and raises B-12 blood concentrations higher than other forms.
For this reason, it is the only form we use in Rise Well, which is in lozenge form for maximum uptake and optimal delivery to the brain. Studies show that oral vitamin B-12 uptake can be as effective as B-12 injections. Learn More
Ingredients
Serving Size: 1 Lozenge
Number of Servings: 100
B-12 (as hydroxocobalamin)......2,000 mcg

Magnesium (as C16 and C18 alkyls from whole, untreated palm fruit and leaf)......3.5 mg

Mannitol......295 mg

Organic, whole cane juice......1 mg

100% Whole cherry fruit extract......3.5 mg

Raspberry flavor......8.5 mg

Croscarmellose......25 mg
Suggested Use
As a dietary supplement, dissolve in mouth and then swallow (1) lozenge daily or as directed by your health professional.
References
Pawlak, R., et al. "The Prevalence of Cobalamin Deficiency among Vegetarians Assessed by Serum Vitamin B12: A Review of Literature." European Journal of Clinical Nutrition, vol. 68, no. 5, May 2014, pp. 541–48. PubMed, doi:10.1038/ejcn.2014.46.

Pawlak, Roman, et al. "How Prevalent Is Vitamin B(12) Deficiency among Vegetarians?" Nutrition Reviews, vol. 71, no. 2, Feb. 2013, pp. 110–17. PubMed, doi:10.1111/nure.12001.

B12 Deficiency May Be More Widespread Than Thought: USDA ARS. https://www.ars.usda.gov/news-events/news/research-news/2000/b12-deficiency-may-be-more-widespread-than-thought/. Accessed 25 June 2020.

Andres E, Loukili NH, Noel E, et al: Vitamin B12 (cobalamin) deficiency in elderly patients. CMAJ 2004; 171:251–259

Medicine, Institute of. Dietary Reference Intakes: The Essential Guide to Nutrient Requirements. 2006. www.nap.edu, doi:10.17226/11537.

Herrmann, Wolfgang, et al. "Vitamin B-12 Status, Particularly Holotranscobalamin II and Methylmalonic Acid Concentrations, and Hyperhomocysteinemia in Vegetarians." The American Journal of Clinical Nutrition, vol. 78, no. 1, July 2003, pp. 131–36. PubMed, doi:10.1093/ajcn/78.1.131.

Penninx, B. W., et al. "Vitamin B(12) Deficiency and Depression in Physically Disabled Older Women: Epidemiologic Evidence from the Women's Health and Aging Study." The American Journal of Psychiatry, vol. 157, no. 5, May 2000, pp. 715–21. PubMed, doi:10.1176/appi.ajp.157.5.715.

Togha, Mansoureh, et al. "Serum Vitamin B12 and Methylmalonic Acid Status in Migraineurs: A Case-Control Study." Headache, vol. 59, no. 9, 2019, pp. 1492–503. PubMed, doi:10.1111/head.13618.

Termanini, B., et al. "Effect of Long-Term Gastric Acid Suppressive Therapy on Serum Vitamin B12 Levels in Patients with Zollinger-Ellison Syndrome." The American Journal of Medicine, vol. 104, no. 5, May 1998, pp. 422–30. PubMed, doi:10.1016/s0002-9343(98)00087-4.

Complementary and Alternative Medicine - Penn State Hershey Medical Center - Drugs That Deplete: Vitamin B12 (Cobalamin) - Penn State Hershey Medical Center. http://pennstatehershey.adam.com/content.aspx?productid=107&pid=33&gid=000717. Accessed 1 July 2020.

Office of Dietary Supplements - Vitamin B12. https://ods.od.nih.gov/factsheets/VitaminB12-HealthProfessional/. Accessed 25 June 2020.

Christen, William G., et al. "Folic Acid, Vitamin B6, and Vitamin B12 in Combination and Age-Related Macular Degeneration in a Randomized Trial of Women." Archives of Internal Medicine, vol. 169, no. 4, Feb. 2009, pp. 335–41. PubMed Central, doi:10.1001/archinternmed.2008.574.

Hintikka, Jukka, et al. "High Vitamin B12 Level and Good Treatment Outcome May Be Associated in Major Depressive Disorder." BMC Psychiatry, vol. 3, Dec. 2003, p. 17. PubMed, doi:10.1186/1471-244X-3-17.

Rizzo, Gianluca, et al. "Vitamin B12 among Vegetarians: Status, Assessment and Supplementation." Nutrients, vol. 8, no. 12, Nov. 2016. PubMed Central, doi:10.3390/nu8120767

Health Quality Ontario. "Vitamin B12 and Cognitive Function: An Evidence-Based Analysis." Ontario Health Technology Assessment Series, vol. 13, no. 23, 2013, pp. 1–45.

Frontiers | The Role of Vitamin B12 in DNA Modulation Mechanisms. https://www.frontiersin.org/10.3389/conf.fphar.2010.60.00140/event_abstract. Accessed 25 June 2020.